An Introduction to the immune system
At any given point in time, the invaders of our body include viruses, bacteria, fungi, worms, and many other organisms. The immune system prevents pathogens from getting too comfortable inside us and mounts a response to destroy them if they enter the body. It, therefore, has the excellent ability to distinguish self from non-self.

Innate immunity, the primary line of defense, is a non-specific arm of the immune system that reacts to any foreign substance or organism. Our skin, the largest organ of the body, acts as a mechanical barrier to the outer world. The secretions of the mucous membranes lining our respiratory, stomach, gut, urinary, and genital tracts trap microbes to prevent them from entering deeper into our body. The many arms of our innate immunity include the acidic pH inside our stomachs, the rise in the body temperature characteristic of a fever, and the presence of lysozyme in our tears and saliva that breaks the cell walls of bacteria. Phagocytes like dendritic cells and macrophages are also deployed to engulf and ingest these invaders and destroy them to prevent any further mayhem.
When someone gets a mosquito bite, a cut on their skin, or even a heart attack, inflammatory responses are observed, usually as redness, swelling, heat, and pain. Mast cells are one category of the immune cells that are constantly patrolling the body and when they encounter any foreign body, they release histamines to signal for blood flow to increase to that area and stimulate inflammation. Further, neutrophils and macrophages come to the infected area to destroy the infected cells and the pathogens. There are many other components of the innate immune system –The complement system, Toll-Like Receptors (TLRs), and dendritic cells — many of which can also feed into the adaptive immune system.

The adaptive immune system, on the other hand, is a much more specialized defense response that kicks in after the initial innate response. The adaptive immune response is armed with two kinds of cells, B cells, and T cells, that counter the pathogens that have invaded the body (and in some cases, even survived the initial immune attack). T cells, with their myriad subtypes, perform multiple specific functions – They summon other immune cells to help launch the attack, carry traces of pathogens already killed for current and future reference, and even kill the infected host cells that can no longer recover. Meanwhile, B cells churn out millions of antibodies that identify specific antigens, which can be proteins, lipids, or other biomolecules unique to the infectious organism for phagocytes to recognize them. Further, memory B cells along with T cells keep the record of all the previous infections, sometimes for the rest of your life. This is why, for example, people who have had chickenpox once are unlikely to get it again. This happens because the strong memory of the past encounter helps the immune system deactivate the chickenpox virus upon its re-entry before it can cause much damage to the body. But it is important to keep in mind that the immune system's memory may not be life long for every single infection and depends on selecting the cells that produce the right antibodies, the type of pathogen and how it evolves.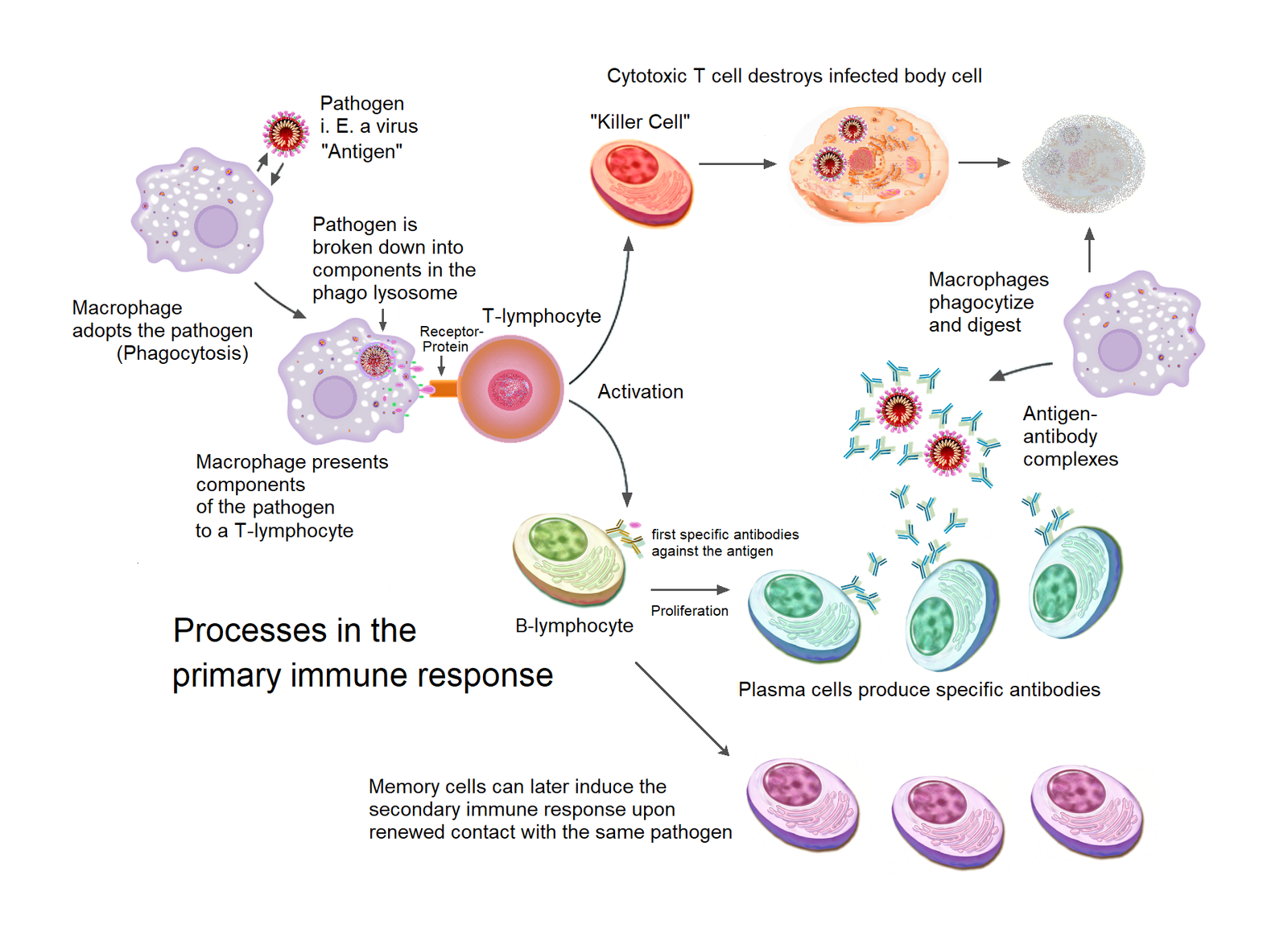 Resources
Face-off with the virus
Once viruses hijack the cellular machinery, cells have the ability to display parts of viral proteins on their surface using tag-like protein molecules, called Major Histocompatibility Complex(MHCs). This presentation is noticed by a particular class of T cells known as cytotoxic T cells, which then release molecules that puncture holes into the infected cells and start a cascade of reactions to cause cell death. Other times, when these MHCs do not carry cellular proteins or any viral proteins, they are detected by Natural Killer cells and meet the same eventual fate – the infected cells are killed, preventing the spread of infection to other cells. The cells taken over by the viruses also release interferons, a type of cytokine that prevents viral replication within the cell while also warning the neighbouring cells of the attack. Soon after, B cells produce antibodies that bind specifically to proteins on the surface of the virus. The neutralized virus, having multiple antibodies bound to it, can no longer use its surface proteins to bind to our cells and infect them. Finally, the neutralized viruses are recognized and destroyed by specialized macrophages of the particular organ in which the infection has occurred.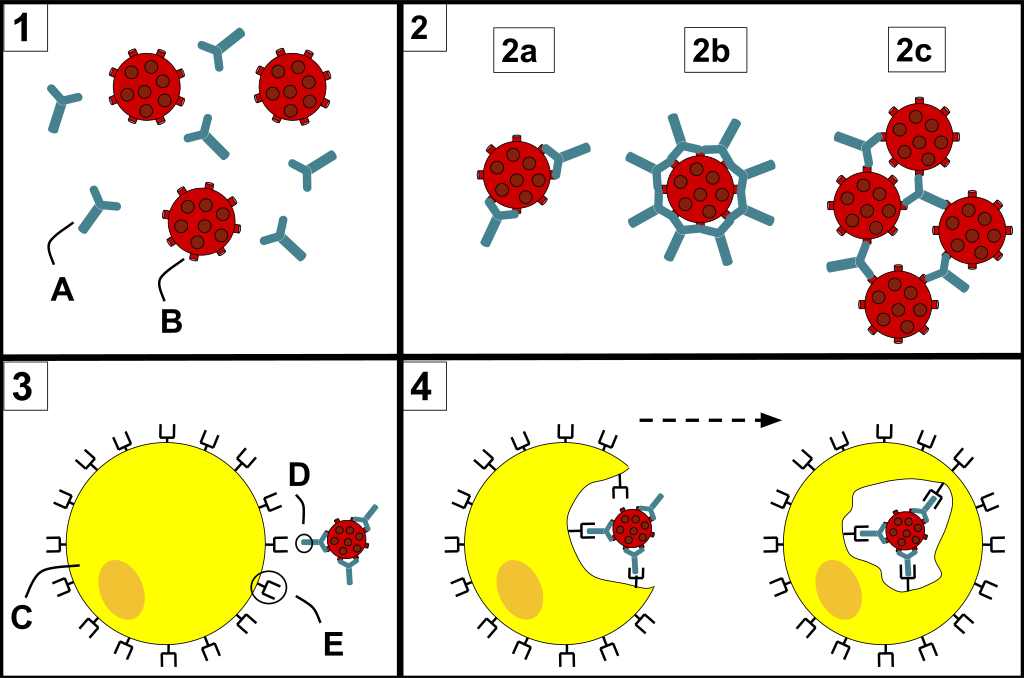 Resources
The interaction of the human body with SARS-CoV-2
Coronaviruses are a family of viruses that contain genetic material made of RNA, which is enveloped by a lipid membrane embedded with proteins.
Out of the seven coronaviruses known to infect humans so far, four cause a common cold. The other three, SARS CoV (Severe Acute Respiratory Syndrome Coronavirus), MERS CoV (Middle East Respiratory Syndrome Coronavirus), and SARS-CoV-2 (Severe Acute Respiratory Syndrome Coronavirus-2), cause much more severe forms of respiratory illness.
SARS-CoV-2, the most recently discovered coronavirus, causes a disease called COVID-19, which has infected millions as it continues to sweep across the world. The disease can be mild in some cases, and in other cases cause devastating damage and even death.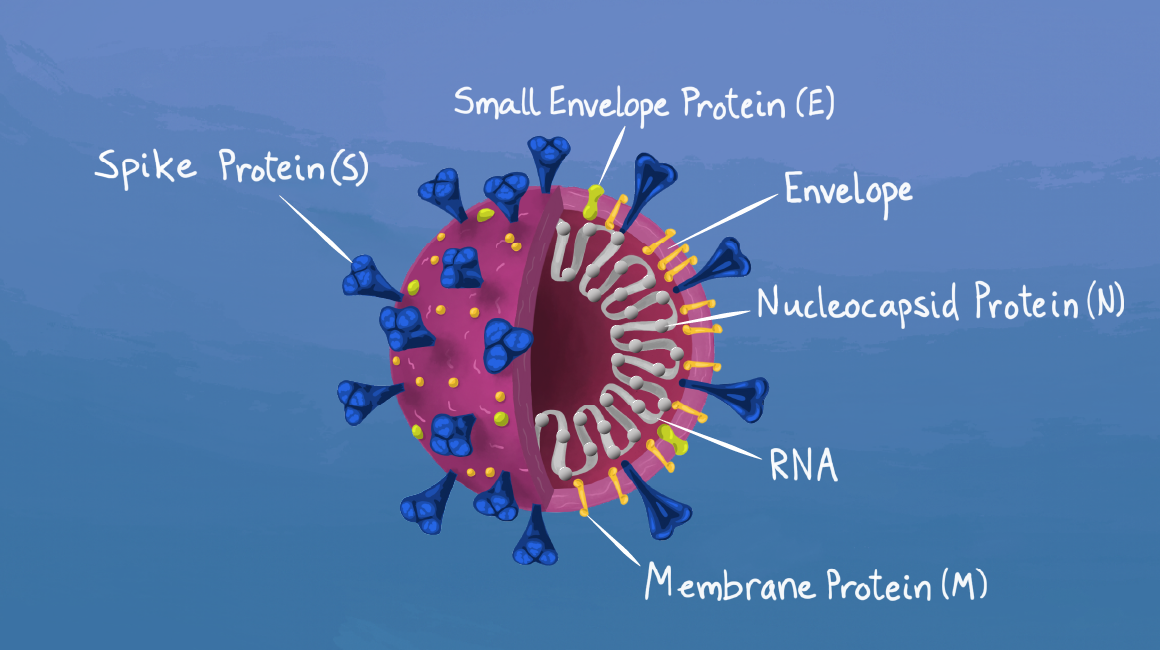 SARS-CoV-2 spreads mostly through droplets that are released during coughing, sneezing, singing or even talking while facing the other person. The virus particles in these droplets usually enter our body through our nose. Early reports show that depending on the number of virus particles that gets transmitted, there might be different scenarios – the infection can start in the throat, and may get cleared off by the innate immune response, thus preventing the virus from reaching the lungs. In other cases, if a large number of viruses enter the body, they can directly infect the lungs.
Coronaviruses have special surface proteins called spike (S) proteins. SARS-CoV-2 uses these to bind to the receptor ACE2, which is present on the surface of our lung cells. The spike protein is cleaved by host cell processes to enable entry into host cells. Once inside, the virus uses the cellular machinery to replicate the viral genetic material and thus make more copies of itself. Once enough copies of the virus are made, the newly-formed viruses burst out of the cell, causing the cell to die. A healthy immune response to this viral invader would mean a controlled cascade of inflammatory molecules, followed by T cells and virus-specific antibodies from B cells, as explained above. And in many cases of COVID-19, this is indeed how the virus is fought off. In such instances, the patient only develops a very mild infection, or in certain cases, no apparent infection at all.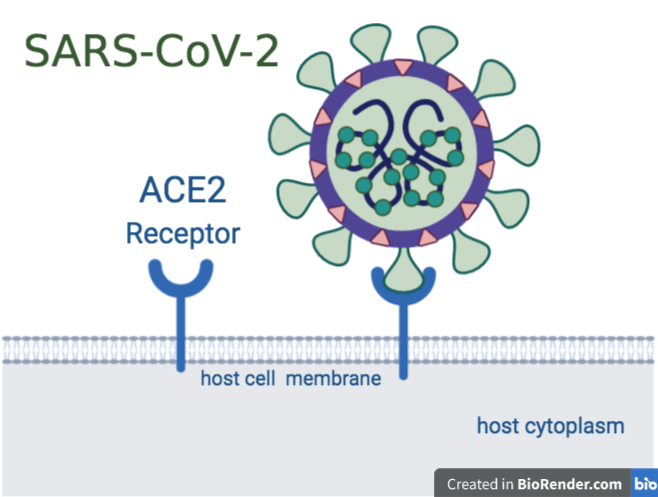 Resources
Cytokine storms: a defective immune response
However, in severe cases of COVID-19, symptoms manifest as pneumonia, ARDS (Acute Respiratory Distress Syndrome), and even multiple organ failure, leading to death. While research is still uncovering how the virus affects different parts of the body, causing widespread damage, it is already well known that these symptoms are also a manifestation of our immune system going into overdrive.
Cytokines are an essential part of a healthy immune response. However, when these molecules are produced in excess, they lead to a cytokine storm, causing widespread inflammation and a vastly exaggerated immune response. This causes an overload of immune cells and debris to fill the lungs (usually the site of infection), thus disrupting oxygen transfer. This is how the patient develops pneumonia. As oxygen levels in the blood plummet further, this could lead to Acute Respiratory Distress Syndrome (ARDS), at which point the patient has to be put on oxygen support.
Cytokine storms also cause widespread thrombosis (blood clotting). Blood clots of different sizes then travel to different parts of the body (heart, brain, lungs, kidneys, etc) and cause havoc by impairing oxygen supply to the organs. Furthermore, the extreme levels of inflammation can injure the heart muscle, thus leading to heart attacks among many COVID-19 patients, even those who have had no previous history of heart disease. This is also worsened by the lack of oxygen-rich blood supply to the heart since the lungs themselves are affected.
Resources
Differences in susceptibility to pathogens
Different people respond to COVID-19 infection in different ways – some are more susceptible, some have an exaggerated immune response, others are asymptomatic. One of the reasons is that there are genetic differences contributing to slightly different versions of the MHC protein (due to variations in the MHC antigen loci), that affects people's susceptibilities to disease. Susceptibility also depends on age – the elderly are far more susceptible than children and normal adults. People with co-morbidities such as diabetes, TB, and hypertension are also at a greater risk of severe COVID-19 infection.  Another group of people at high risk are those who are on medication after organ transplants, and those whose immune systems are greatly weakened by diseases such as cancer and AIDS. Such people are immunocompromised, and unable to launch a strong enough attack against invading pathogens. 
Resources
How vaccines work
A vaccine usually consists of a dead or weakened form of the pathogen and is administered to the body to allow our immune system to respond. Sometimes, specific antigens or even genetic material (which by themselves cannot cause infection) from the pathogen are used to trigger our immune system to develop antibodies against them.
Most of the developments surrounding SARS-CoV-2 vaccine candidates have come from using its spike protein. Moderna's mRNA vaccine, mRNA 1273, delivers the genetic code (in the form of RNA) of the spike protein to the cells. Once inside the cells, the RNA is converted to the functional spike protein, which then acts as an antigen to elicit an immune response. The University of Oxford and the company AstraZeneca are making use of a chimpanzee adenovirus to carry the SARS-CoV-2 Spike DNA, which, upon reaching the cell, can be converted into its protein antigenic form. On the other hand, Sinovac Biotech from China is testing a vaccine candidate (Coronavac) that uses the entire inactivated virus, and not just specific antigens. Even though vaccines take years to become available to people as adequate time is required for development, testing, and safety checks, these efforts have already reached phase 2 trials. However, these vaccines still need to undergo vigorous testing and clinical trials before they can be deemed safe enough to be administered to the public.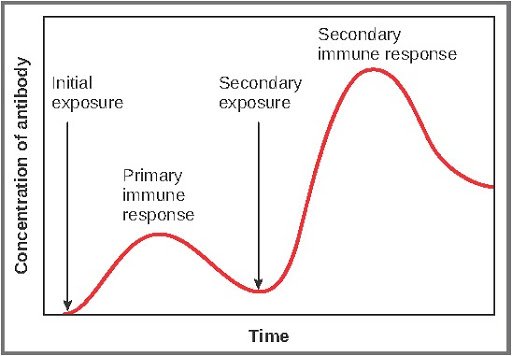 Resources
Plasma Therapy in treating infections
Convalescent Plasma Therapy is a form of treatment wherein plasma from a recovered individual who had the disease is transfused into a current patient since the plasma would contain antibodies specific to the pathogen.
A person who is infected with COVID-19 for the first time has no prior SARS-CoV-2 specific antibodies in their blood. By the time their body actually produces these antibodies, it is possible that the virus could cause too much damage, or the immune system could go into overdrive. Therefore, making it possible to "borrow immunity" in the form of ready-made antibodies from a willing donor can help halt the virus in its tracks and potentially save the patient's life.
Resources
Herd Immunity
The spread of a disease across a community can stop only if a large proportion of the people in that community are immune to the disease. Herd immunity is a term used to describe the indirect protection that susceptible people have against a disease, due to the fact that most of the population is immune to the disease.
How can herd immunity be achieved? The first way is quite straightforward – if enough people are infected, they will eventually gain immunity to the disease and prevent a second outbreak. Understandably, this cannot work for life-threatening diseases such as Ebola or even COVID-19, as too many lives are at risk. However, if a majority of the population is vaccinated (the exact percentage varies across diseases), these people will no longer be a part of the transmission chain of a disease, thus preventing a potential outbreak. This is why large-scale vaccination programs are so important. Essentially, herd immunity protects the fraction of the population that cannot receive vaccines – immunocompromised individuals, and certain people whose immune systems do not respond to vaccination.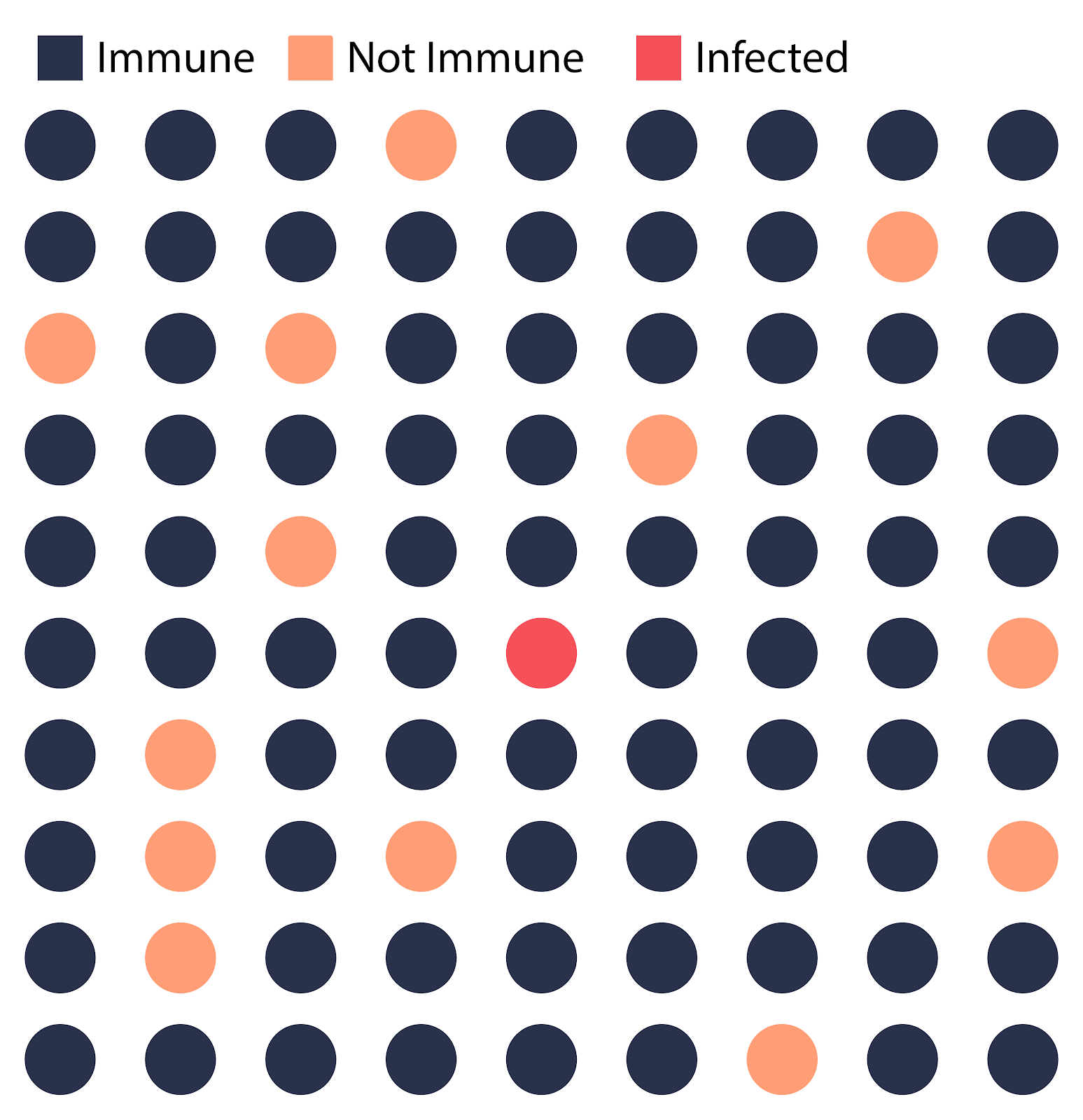 There are still many questions to be answered about potential drugs and vaccines, and as to why the immune system responds unpredictably in different situations and different individuals. As a complex, multi-faceted collection of cascades and processes, more is uncovered about our immunity with each new disease that strikes us.
Resources
Video Resources